Herdston at South Shields (Salvation Army)
This layout is based loosely on Scots Gap in Northumberland and is our interpretation of what might have been if the line had been preserved. Set in the present day, motive power consists of some locomotives currently in preservation (although the liveries may be different, one or two that should have been preserved, and some from when our family was young.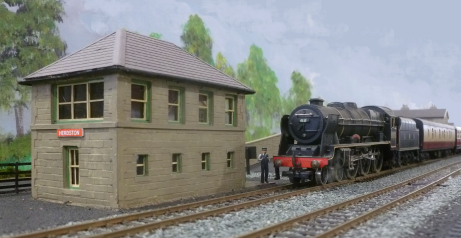 Scots Guardsman pauses at Herdston signal box
Track Plan.

Venue - The Salvation Army, Wawn St. South Shields NE33 4EB
Date - Friday February 10th. and Saturday February 11th. 2023
Times - 1:00pm - 8:00pm. Friday, 10:am to 5:00pm. Saturday
Refreshments
Look out for
The APTe
The Alexander Models Clayton
BR and Pullman coaching stock
Some mid 1980s P.O wagons