Our Layouts
Herdston
Scale - 4mm/ft. 00
Era - Present Day
Number of operators - 3
Exhibition space required - 21ft. x 9ft. and space to barriers
---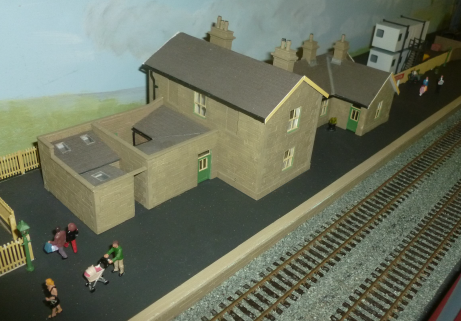 Herdston is a fictional preserved railway in the North East of England.
The theme of the layout is to exhibit models of preserved steam (and diesel) locomotives, alongside preserved models (i.e models which we have owned for some time, but do not operate on our other layouts. A Northern Rail Class 142 provides the 'present day' service.
Operationally, the layout is a terminus of a heritage line, with an end-to-end junction with Railtrack metals. A local modern passenger service (presently Northern Rail) terminates at Herdston Junction Station, with heritage trains terminating from the other direction. Through running on to the main line network is allowed for the heritage services for 'specials'. Although the rear fiddle yard would allow for 'tail chasing' operation of the heritage stock, this will not always be implemented in practice.
The heritage stock is drawn from all regions, and operates on a 'run what we like' basis, including some locos which should have been preserved but were not, as well as models which are no longer available.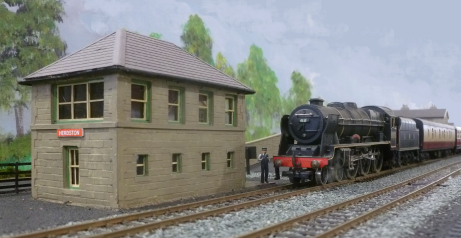 Scots Guardsman waits for the token at Herdston Signal Box. This Mainline model was acquired 'used' almost 30 years ago. Following a good service, it works rather well and may still be working in another 30 years time - (but perhaps on a different layout).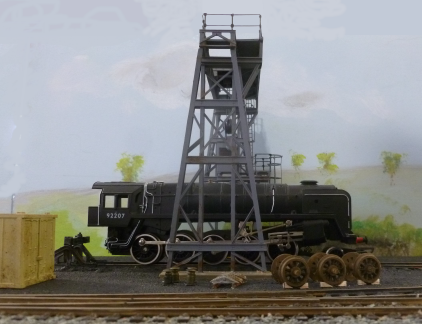 Lurking under the overhead crane is preserved 9F no. 92207. At the time of writing, the actual preserved locomotive did not have a tender, so that's how we displayed it at a recent show. For added fun, it can be towed around by a shunter. The bits and pieces of locomotive scattered around, are from an old Dapol kit. The shipping container is Army Surplus from the Gulf War and is a Knightswing Models item.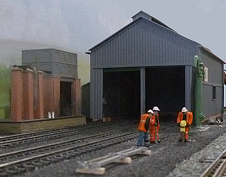 The Permanent Way gang are busy digging a hole in the layout. They need to be careful, as there's a multi-core control cable about 4 scale feet down from where they're drilling. Still, they are wearing high visibility clothing, so they should be nice and safe! The modern engine shed is scratch built from Evergreen Plastics sheeting. The redundant water tower and coaling stage is also scratch built and like other architectural details on the layout is based on one that was at Scots Gap. A pair of coupling rods from the aforementioned Dapol kit have been temporarily stored in the open.
---
Herdston Track Plan

Acknowledgements
Thanks are due to Ian Futers for making his drawings of Scots Gap publically available in the modelling press. It saved us a lot of work. Also to be mentioned is Mike Griggs' book, Route and Branch: North East England. This publication is packed with photos and maps, as well as informative text describing the North East scene.
---