Our Layouts
West Pinfold
Winner of the Phil English Cup - Birtley 2020
Scale - 4mm/ft. P4
Era - 1923 - 1939
Number of operators - 3
Exhibition space required - 17ft. X 6ft. and space to barriers
---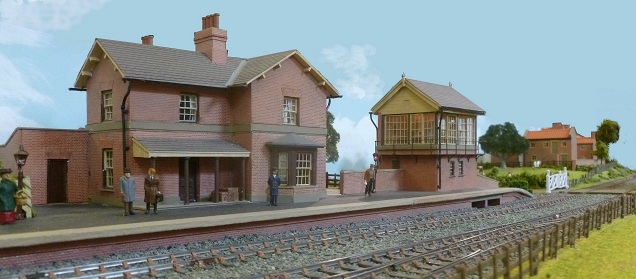 West Pinfold is a rural branch line terminus set somewhere in East Yorkshire.
The aim of the project is to create an attractive rural operation at the end of a truncated branchline in the 1930's. The layout is designed to be expandable, with the future provision of a second fiddle yard, thus restoring through running.
The setting is based on the southern division of the NER. The station has the usual facilities of a goods warehouse, coal drops, and a small station building. Much of the station architecture is based on the work of G.T. Andrews. A local timber merchant's depot adds an extra dimension to the usual goods traffic.
All track is kitbuilt to P4 standards and the location is served by J71 and N10 locomotives, and a sentinel railcar. All stock is kitbuilt - mainly Parkside, David Geen and 51L.
| | |
| --- | --- |
| | One of the richer local landowners is due home on the 15:30 train. His carriage awaits his arrival for the final part of his journey. The local constable shares a joke with the driver. The two dapple grey horses were painted by Adrian and are Langley Models white metal items. |
| | Pinfold Beck flows through the valley to the north of the station, and provides a power source for the local mill. The days of milling by hand are drawing to a close, and the mill will soon become disused as grain can be milled more efficiently at larger factories. |
| | The Lion Inn sits comfortably on the village green; it isn't opening time just yet. This building is based on the Cross Keys at Thixendale in East Yorkshire - it is well worth a visit and situated on The Wolds Way. The real pub is in a valley bottom and is quite a different location. The Austin 7 is an Oxford Die Cast item. |
| | The signal box is based on Nafferton. Being built in to the platform, it has a good view of aproaching trains. There is a 21 lever McKensie and Holland frame. Operation of the turnouts is by Tortoise motors. Crossing gates and semaphore signals are servo controlled with equipment from Heathcoat Electronics. |
West Pinfold Track Plan

---