Our Layouts
Woodside
Scale - 7mm/ft. O
Era - Transition
Number of operators - 3
Exhibition space required - 13ft. X 6ft. and space to barriers
---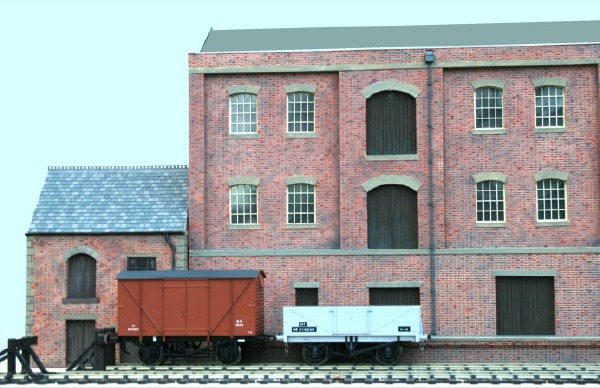 Woodside is a commercial area based on the North East of England with a small "workman's" halt.
Our aim was to create a 'micro' layout in O Gauge, based on shunting operations to local warehouses and a small local passenger service. The largest of the warehouses is owned by Woodside and Son (hence the name of the layout). All buildings are scratch built.
The track is Peco, and Tortoise motors operate the points. The area is served by a J94, a G5, 03 and 08 deisel shunters a sentinel, and a class 101 DMU.
Woodside Track Plan

Other Pictures of Woodside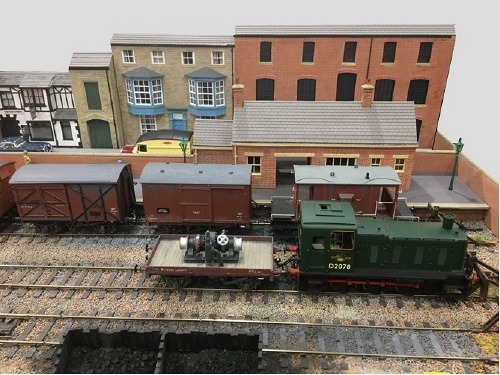 A busy day at Woodside with a J94 and Class 08 in charge.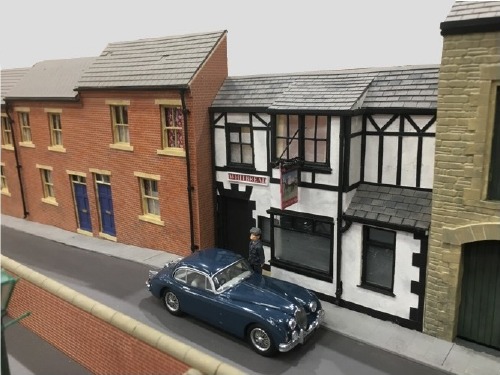 Joe stands outside of the Dun Cow, waiting for opening time. If you visit Durham, be sure to go to the Dun Cow in Old Elvet - a traditional pub with real ales. Post-covid opening times are not known, so please ring first.
Many thanks to Gill the Landlady and Bill the Landlord
---