Our Layouts
Dalefoot (Bridge Road)
Scale - 4mm/ft. 00
Era - transition
Number of operators - 3
Exhibition space required - 9ft X 6ft. and space to barriers
---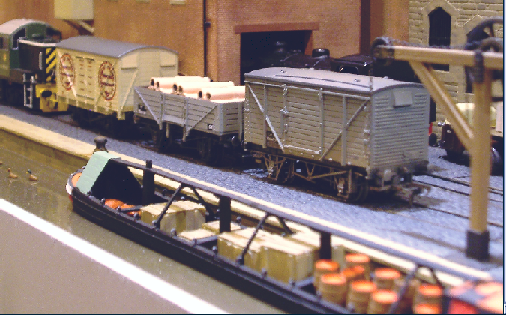 A Class 14 stands with a small mixed goods train at Dalefoot Warf.
---
Dalefoot (Bridge Road) is a compact exhibition layout which has been shown on a number of occasions in the North East of England.
Dalefoot (Bridge Road) is a small freelance motive power depot in the town of Dalefoot at the bottom end of the fictitious Dalefoot to Castledale branch in the Yorkshire and Durham Dales.
Nearby Dalefoot Junction is situated on a busy main line, which requires Bridge Road shed to maintain a locomotive or two on standby to relieve the main line locomotives. Thus a variety of interesting motive power can be seen at all times of the day.
The layout was designed to provide intense operational interest in a very small space. Typically 9 locos, 1 single coach train and a DMU can be seen operating. This layout has a very short set up time.
The layout consists of two operational areas - a 2TS dead end shed with coaling stage and a 60ft. turntable, together with a smaller industrial area on a lower level containing a canal and warehousing. Two hidden storage areas are provided, one concealed by a low relief factory / warehouse complex and the other hidden below the engine shed area, serving the lower level from a 3 road traverser.
Photo Gallery - scenes around Dalefoot
Click on the thumbnails for bigger pictures and more details.
Dalefoot (Bridge Road) track plan.

---